About Retinol Molecular Serums 10 - 20 - 30 Clearance
Retinol Serum
July 2022. This serum is being updated into our new Fusion A. When the stock of retinol molecular serum is depleted this page will be closed.
Your skin requires an application of Vitamin A every day to function at its peak. While the natural rate of skin cell turnover is about 30 days average (longer for skin 40's and up), retinoids work to dramatically accelerate that cycle to be about a 10- to 14-day process. If there were ever a product that was good for everyone - this is it! Ensure your skin ages slowly with a daily application of Retinol.
Encourage new tissue growth and proper function each evening before bed for best results. Our Molecular Retinol Vitamin A Serum comes in three different levels (.10%, .20% and .30%). Always begin with the mildest percentage and only move forward if you feel it is necessary. Many people will remain with the .10% for years. The daily recommended dose of Retinol is only .05%, so even our mildest formulation is already 2x stronger. This is the best retinol you will find over the counter to help your skin. This serum works to dramatically:
Prevent premature aging.

Improve the growth of skin cells.

Ensure proper maintenance and function of skin.

Improve your acne.
---
How much retinol is actually in that product?!?
You are most likely here after comparing many other retinol products and your mind many be spinning. All those different percentages. How can one company have 1% or 2% when another has only 0.1 or 0.2%? There is one disturbing reason.....
The percentage you are looking at on that retinol bottle could be WRONG!
Many brands like to claim retinol percentages that are not PURE retinol... but of an "active mixture" that contains the retinol.
For example, we get our retinol from a mixture called 15D. That patented blend of ingredients has 15% retinol. *Now, we add the appropriate amounts of this to have an actual finished pure retinol %... but others do not.... and they can get away with it too.
Examples:
1% of 15D = 0.15% formula.
2% of 15D = 0.30% formula. *We could say we have a 2% serum... but do we? No, it is a 0.30%.
Can other companies be unscrupulous like that? They can.
What is the difference between Retinoids - Tretinoin - Retinoic acid - RetinA and Retinol?
Retinoids are actually a class of chemical compounds related to Vitamin A. Retinoic acid (generic name Tretinoin, trademarked names RetinA, Avita, Renova) requires a prescription. It is the acid in its strongest form. Its percentages range from 0.025% - 0.10% because of how excessively irritating it is. It can cause redness and visible peeling that is quite uncomfortable for most skin types and can take several months and up to a year to acclimate to.
OTC retinoids are the solution if prescriptions are not for you, due to the fact that you have more sensitive skin, or because you would rather avoid the irritant entirely. Pure retinol works with your body since it is so close to its original form, and is directly converted INTO the retinoic acid your skin can use! Since it is converted into acid deep in your skin, you can avoid the unsightly redness and shedding that is so common when it is applied directly to your skin.
You have to make sure to get the right retinol! Now, understandably if your body needs to convert retinol into retinoic acid you are going to lose some of its potency - this is to be expected. This is where the molecular structure becomes so valuable. Since our retinol is micronized, it penetrates very deeply into the skin and will retain a much higher value when it is converted. Compare that to a standard retinol that will not penetrate easily and the majority of its strength will be lost before it has the chance to convert into its active form.
Retinol itself also comes in many variations (retinol, esters, palmitate, acetate). These other versions of vitamin A have molecules that are too large to penetrate the skin, or in the acetates case they are too small and crystallize too quickly. So, if the molecules are too deep to penetrate, what is your option?
Our Retinol Is Special!
Most retinol creams and serums are virtually useless? The main reason is that they do not deliver a significant enough amount of retinol into the skin's cells. Secondly, they cannot get the retinol deep enough into the skin. We have solved this issue by formulating the retinol in a special delivery system. This system ensures stabilization of the molecule without oxidation, and enhances cutaneous absorption of Vitamin A through the epidermis. Our serum is obtained at 12,000 psi under micro fluidizing conditions. Our delivery system can get the Vitamin as deep as your PRICKLE layer! This is 4 layers deep!
Once our retinol reaches your prickle layer and converts into retinoic acid, you will get a higher percentage than you would with a plain (non-microfluidized) retinol product. Don't be fooled by high percentages that will never convert at a high percentage in your skin. A standard retinol product will loose about 500X its stated percentage when it gets converted by the skin into retinoic acid. Not to mention it will degrade by several percent before it is even applied to your skin. You aren't getting the benefits you think you are following this logic. Now you can really see how special this product is.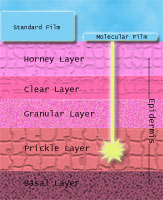 Which percentage should I choose?
.10% - If you are just beginning your retinol usage or have sensitive skin always begin here.
.20% - If you have acne, are ready to move up in strength, or have used prescription Renova in the past, start here.
.30% - If you have been using RetinA and are switching to over the counter, choose here.
.50% - If you are needing stronger, advance to Step 4 Luminosity .50% Retinol Cream.
- If you are looking for the strongest, retinol, see our Vitamin A Dream Peeltm.
---
What is Retinol?
Retinol is necessary for the growth, maintenance and function of the skin. It also helps to prevent premature aging of the skin. Retinol is a derivative of Vitamin A. It is enzymatically converted in the human skin to Retinoic Acid. Retinoic acid has direct effect on skin cells, and can adjust their metabolism toward a more youthful state. Vitamin A also works extremely well on your acne! Retinol can help to shed the top surface of skin as well as deeper inside the follicles, reducing plugs.
"The only FDA-approved topical treatment for wrinkles is tretinoin, known commercially as Retin A. Ashinoff says this prescription cream reduces fine lines and large wrinkles, and repairs sun damage. Retinol is a natural form of vitamin A found in many over-the-counter products. Studies show that in a stabilized formula, in high concentrations, it may be as effective as Retin A, without the side effects, such as skin burning and sensitivity". [1]
Vitamin A Serum Benefits
Vitamin A benefits the skin by stimulating the body's natural production of collagen, (one of the key building blocks of skin). This rebuilding action can make wrinkles look less severe and can reduce the appearance of splotchy-ness, age spots, and sun damage. Retinol also benefits acne skin and super speeds the healing of acne lesions.
Other popular Vitamin A treatments are RetinA tm (prescription retinoic acid aka tretinoin) which is mainly for Acne, and Renova tm which is for Aging skin.
Will retinol thin my skin?
"There are a few myths about retinol products that may erroneously shy potential users away, including the idea that retinol products will thin out skin over time," Dr. Kraffert says. "This is simply not true; retinol has a tendency to slightly thicken skin." The ingredient does this by boosting your natural production of collagen, leading to fewer fine lines and wrinkles and plumper, bouncier skin.
Can you use retinol at the same time as low pH products like Vitamin C and acids?
Yes you can! There was one study done in the 90's that thought retinol performed best on your skin's normal pH level, but it has since been found that it works just as well at low pH levels. So you have no worries in combining this with your favorites on our site.
Can you use retinol during the day?
While we really like for you to use your retinol as your evening treatment, that does not mean that you can't use it during the day if that works better for you or the products in your regimen. The key here is that you must use a good reflecting SPF of 50 to do so. Ingredients like Titanium Dioxide or Zinc will reflect the sun from your skin - protecting your retinol.
---
Who Is It Good For?
Antiaging: This Vitamin A serum is excellent for all skin types looking to preserve youthful looking skin and prevent deep lines. It is especially valuable for weathered skin types showing excessive signs of aging. It will help to dramatically smooth and freshen the skin's appearance quickly.
Do I have to use Retinol every night?
Follow your skin's lead. Our skin is oilier in the summertime and can take more harsh products. If you find that your skin is getting TOO dry in the winter months, cut back with your usage and try every other day or every 3rd day as an option. Definitely keep it in your evening regimen, but take a step back until your skin is more comfortable.
Improve Acne: Platinum Skin Care CEO Jennifer, finds Retinol .20% is absolutely mandatory in keeping her acne prone skin looking clear and healthy! "I find that if I do get a pimple, the redness is gone in as little as one week, opposed to several weeks and even months! It puts my skin into a hyper-regenerative mode. As soon as the blemish is healed the mark is practically gone. It is my 'can't live without' product... well, this and my Vitamin B Complex and AB Cleanser".
Minimize Large pores: Due to its ability to aid in shedding the follicle walls, the skin can long-term, temporarily tighten and minimize the look of pores.
Reduce Psoriasis Buildup: Topical retinoids (retinol) are helpful tool in managing psoriasis. This is because of its ability to control the way that new skin cells are formed. Retinol communicates with the cells that are overproducing and "tells" them to behave in a healthier manner. Apply retinol one time per day onto clean skin. Watch for dryness or irritation and cut back, or add other hydration to combat. Our Vitamin A Dream Peel would be an excellent monthly option for you.
---
Ingredients
Cyclopentasiloxane, Dimethicone, Dimethiconol, Ethylhexyl Cocoate, Tocopherol, Caprylic / Capric Triglyceride,

Retinol

, BHT, Dimethylmethoxy Chromanol. pH 5 1oz./30ml
---
Instructions
Apply to clean skin every other night before bed. *You can increase up to each day as long as you are not irritated. You will notice a glossy film immediately after application, however the film will dissipate within minutes as product absorbs, and skin will have a soft, silky feel.
Citations:
Paula P., Verified Buyer 12/01/14
I have been using .30 Retinol Molecular Serum for the past few years. This is a product I cannot go without! I am in my mid 30's and I feel like my skin looks better than others my same age! *Results vary depending on individual needs and product usage. Please see us for personal recommendations.
Denise Miller, Verified Buyer 07/12/14
SOFTENS LINES AND WRINKLES
This is my fourth week using the retinol molecular serum .30 and I love it. I've noticed a difference in the softening of my lines and even the deeper forehead wrinkles. They are becoming less noticable. In fact, the other day while playing cards with a group of people, a friend said out of the blue "you have no wrinkles on your forehead, how is that possible?" (I'm 55) So, I told her about the retinol serum from Platinum Skin Care I had been using and directed her to your site. Thanks Platinum. *Results vary depending on individual needs and product usage. Please see us for personal recommendations.
Elise Burke, Verified Buyer 05/14/14
This product is now a staple in my evening regimen. I used to break out very badly in my chin area. No matter what product I tried I would get acne that actually would leave dark marks on my skin. I was always afraid to try new products and afraid to even wear makeup because of my skins sensitivity. I want to say it took 3-4 mos for this product to clear up my skin (I almost gave up) but I am so glad I didn't because now it keeps my skin clear, I can actually wear makeup, plus it keeps my skin looking fresh! *Results vary depending on individual needs and product usage. Please see us for personal recommendations.
Lynda Nguyen, Verified Buyer 01/07/14
UPDATED REVIEW -- RE: GOOD PRODUCT, BUT...
This is an updated review that I made a while back. At the end of this month, it will be the 3 month mark of using this product. My breakouts have stopped. My skin is balanced... not too oily and not too dry. But the reason I had to make the updated review now is because my husband just randomly told me how clean and clear my skin looked while we were talking. This is the first POSITIVE comment he has made on my skin. And I must admit, my skin is looking a lot better than it has for a long while. I have less breakouts, my old acne marks are almost gone, and my skin looks more hydrated. I didn't run out yet, but I just bought a second bottle with coupons. I also use the 10% glycolic toner about once per day. This toner most likely added to the benefit of the retinol. Like I said in my previous review, if this retinol were sold in higher percentage, it would be perfect! *See Luminosity. *Results vary depending on individual needs and product usage. Please see us for personal recommendations.
Linda, Verified Buyer 12/14/13
BROKE OUT VERY BAD! - RETRACTED REVIEW
I previously wrote a review complaining of bad breakouts from using this product. Following Platinum's advice, I cut back my application frequency to a few times a week and can now say I LOVE this product. I rarely use it all over my face, preferring to use it more as a spot/blemish treatment as it works great at clearing up breakouts. I'm a little scared to put it all over my face only because I think I'd be over-exfoliating my face which I believe was what was causing the initial breakouts (I was previously using the glycolic serum in the mornings and retinol at night, which I think was just too much exfoliation). However, using glycolic as an all over face treatment and retinol as a spot/localized treatment has been great. *Results vary depending on individual needs and product usage. Please see us for personal recommendations.
Sarah Shafer, Verified Buyer 06/04/14
RETINOL 10 VS. 30
I originally bought the sample size of of the 10% serum and didn't see a whole lot of difference. Next I purchased a full size of the 30% which is fantastic. Unless you have really sensitive skin that takes a long time to acclimate, I would suggest doing the same. The full size lasts a LONG time and the results with the 30% are much better. ***Platinum comment*** Many people find that the .30% will cause their skin to be very sensitive (especially if you are using otherstrong products at the same time). It is true that the .10% does not cause irritation. Please be cautious though and start off with a sample size of the .30% to be sure you are not going to be bothered. *Results vary depending on individual needs and product usage. Please see us for personal recommendations.