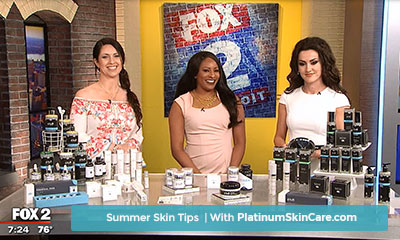 Platinum Skin Care CEO Jennifer Tilney showcased their professional skin care products on Fox 2 Detroit with Anchor Maurielle Lue. We were also excited to hear that she has been using our products to keep her skin smooth and healthy.
We were thrilled to be asked back a 4th time to Channel 2 Fox News for skin care advice. This time we were able to talk about protecting your skin from the sun and a few key products to keep your skin safe.
We also had a few minutes to demonstrate our new Bubble Therapy Oxygenating Mask which is also beneficial for summer skin as well as all year long.
Key products for summer skin are:
High Octane Vitamin C for preventing UV damages, brightening and evening the skin tone.
Retinol Molecular Serum .20% for intense regeneration, pigmentation reduction and antiaging.
Bubble Therapy Mask for oxygenating the skin and lightening pigmentation issues.