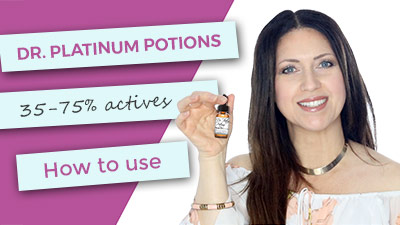 CEO Jennifer knows that when it comes to aging issues strength can really play an important part in getting the results you want.
That is why she created her Dr. Platinum Potions line where you receive actives in SUPER high percentages that you can work with.
You can apply the concentrated potions straight or dilute them into your favorite antiaging creams and serums.
Get ready to put your regimen on MAXIMUM OVERDRIVE with these patented actives.
Mix and match your favorites and concentrate specifically on YOUR problem areas with the exact products that will work for you.
We are excited for you to get started. You have never seen anything like this on a store shelf!