About Lactic Acid 50 Peel

CERTIFIED Lactic Acid Peel 50%

Free Acid Value = 50 *Learn about FAV here.
This lactic peel is buffered. Buffering raises the pH level of the acid so that it does not work too quickly. A higher pH level will slow-down the action of the acid, and is thus safer for an at-home peel. This 50% lactic peel is perfect for the do-it-yourself-er or first time peeler.
Lactic is a great choice for those dealing with aging and pigmented skin - think liver spots and freckling. Lactic Acid will exfoliate the outer surface of the skin and encourage new cell turnover. It is a natural humectant, pulling moisture from the collagen levels to the surface of skin.
We have Cleopatra to thank for this peel. When milk turns sour, the lactose is converted by bacteria into lactic acid. When Cleopatra chose to bathe in sour donkey milk, the lactic acid was able to help exfoliate her skin and keep it smooth and beautifully clear. Milk wasn't the only acid used by the Egyptians, though it was the most popular. Tartaric acid was another favorite. It comes from old wine.
Chemical peels are great for use as:
Anti aging treatments
Minimizing hyper pigmentation / spotting
Scar treatments
Refreshening of the skin.
If you are searching for these general types of skin improvements, then lactic is the acid choice for you. Lactic is great for:
Photoaging (fine lines, not course wrinkles).
Mild-medium sun damage.
Looking for deeper hydration
Gentle exfoliation - little to no visible flaking.
If you are on the sensitive side, you will really enjoy lactic acid. It has a very large molecule that will make the peel experience more pleasant. This treatment is relatively non-irritating with very little, if any, down time. Our Lactic acid peel has been enhanced with a "skin lightening" and " anti-aging" cocktail of herbal remedies. Contra-Indications: Milk Allergies If you are ready to move to a stronger acid, our TCA 13 is another excellent choice for pigmentation and antiaging with more peeling.
View our simple hydroxy acid peel demonstration. Lactic will be applied in exactly the same way. All hydroxy acids are applied, timed and then rinsed off to either dilute or neutralize the acid.
Watch Vlogger Mary Haberski @yogasurflove use our Lactic 50% peel for the very first time. She is an avid surfer, and on her off season decided to do some improvements on her skin. She did an amazing job and we are so thankful to get this video. See how easy this is to apply - even for a very first time user. Enjoy her tutorial.
See Vlogger Vincent Balducci apply our Lactic 50%
What kind of peeling can I expect?
With lactic acid there is very little, if any visible peeling. Lactic is considered a Very Superficial peel (more of an exfoliation), meaning that it only penetrates into the outermost layer, the Stratum Corneum. It will smooth your skin, and the majority of exfoliation will be on a molecular level. This does not mean that it isn't working though. Flakes are not necessary for changes to occur within the skin. This is the perfect peel for someone that wants refreshed, new and glowing skin, but doesn't want to deal with the dryness and flakes a stronger peel will have.
Continual use is recommended for best results. You can apply this peel one time per week indefinitely. It is also OK to use during pregnancy and during breastfeeding (lactation).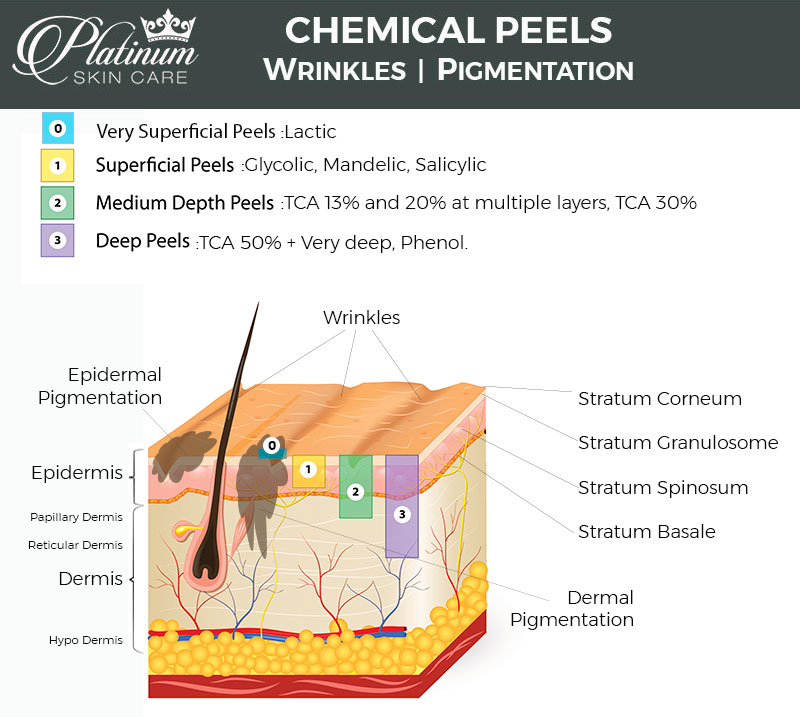 Ingredients
Lactic Acid 50, Purified Water, High Purity Lactic Acid, Sodium Hydroxide, Glycerine, Hydroxyethylcellulose, Benzyl Alcohol, Allantoin, Panthenol, Butylene Glycol, Hymulus Lupulus (Hops) Extract, Equisetem Hyemale (Horsetail Plant) Extract, Pinus Strobus (Cone) Extract, Citrus Limon (Lemon Bioflavonoids) Peel Extract, Rosmarinus Officinalis (Rosemary) Leaf Extract, Methylisothiazolinone. pH 2.5. (1/4oz., 2oz. and 4oz options).
Post Peel Neutralizer, Deionized Water, Glycerine, Sodium Carbonate, Panthenol, Polysorbate 20, Tea Tree Oil Benzyl Alcohol. (4.5oz.)

Peel Prep Solution A, SD Alcohol 90%, Glycolic Acid 5%, Water. pH 3.0 (2oz.)