About Glycolic & Lactic Body Wash
Exfoliate your body while maintaining the natural moisture balance of your skin with hydroxy acids. There is a "laundry list" of things this deep body wash can be used for, but here are a few to get you started:
Smooth dry feet, elbows & knees.
Reduce sun damage and freckles.
Treat body acne.
Use for shaving.
Lessen Keratosis Pilaris.
Shampoo excess buildup of styling products on the scalp.
Aromatherapy. MMMMMMM Delicious Lemon Grapefruit, Tangerine will get you going in the morning.
The delicious combination of 15% of Glycolic and Lactic acid body wash will smooth your skin like no other cleanser can do! For best results use daily with a loofah puff. Couple this exfoliating treatment with our Triple Treat 25% Acid Body Lotion for the absolute maximum results available.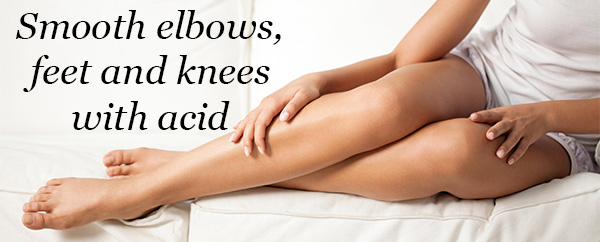 ---
What are Hydroxy Acids?
Hydroxy acids are non toxic substances found in the human body, fruit, wine, milk, sugar reed, etc. They act as peeling agents and are very beneficial for treating wrinkles, acne, sun-damage... The alpha-hydroxy-acids family includes: glycolic, lactic, malic, hydroxyicaprylic, hydroxyetanoic, etc.

These types of substances accelerate the turnover of skin cells, remove lesions, restore steadiness, elasticity and have "true" moisturizing characteristics. They not only accelerate the cellular exchange, or remove the dead cells as it often hails the pharmaceutical industry, but they improve the renewal of the skin strongly, increasing the collagen, elastin and the inside hydration, stimulating the production of proteins moisturizers and sugars.

They can be used for improving the penetration of substances through the derma. They are used mainly for anti-wrinkle effect: it opposes the aging of the skin, with the use the derma returns to have the thickness and turgidity of that of a juvenile. It stimulates the fibroblast directly and therefore the collagen, elastin and mucopolisaccaridi that maintain the young and elastic skin. Although it is an exfoliant, in time great thickness will be had, in fact being igroscopyc (it absorbs water) it develops intense moisturizing action.

Ingredients
Deionized Water, Ammonium Laureth Sulfate, Ammonium Lauryl Sulfate, Glycolic Acid Ultrapure tm 15%, Lactic Acid USP, Cocamidopropyl Betaine, Glycerine, Cocamide, Ammonium Hydroxide, Macadamia Glycerides, Retinyl Palmitate, Ascorbic Acid, Tocopheryl Acetate, Colors Blue & Green, Fragrance (Lemon,Grapefruit,Tangerine), Methylisothiazolinone and/or Methylchloroisothiazolinone.
According to the FDA, cocamide DEA is perfectly safe to use in personal hygiene products and cosmetics. *California residents: This product This product can expose you to Coconut Oil derivitive (INCI: Cocamide DEA). You may still purchase this product by agreeing to our Shipping Policy during the checkout phase.