About Mandelic Peel 22 - 40+

CERTIFIED Mandelic Acid Peel
Free Acid Value = 22 or 40 *Learn about FAV here
This mandelic acid face peel is of the buffered variety. Buffering raises the pH level of the acid so that it does not react too quickly to be dangerous. Mandelic is excellent for all skin types including Rosacea (at 22%). A large molecule equals less irritation. All skin types. Excellent for Fine lines, Acne-Rosacea, Pigmentation and ACNE! Antibacterial and antiseptic. Prepare your skin with exfoliating products (Retinol/RetinA/Glycolic Serum) for at least 2-3 weeks prior to beginning your regimen.
Choose from one of two available percentages:
Level 1 Mandelic & Azelaic 22% (2.5pH) - Excellent for teens, sensitive skin, those with Rosacea and anyone looking to improve their skin.
Level 2 Mandelic 40%+ (2.5pH) - Looking for more results than the 22. Expect more flaking.
**Fact! - Mandelic has a very large molecule which gives it is low irritation factor - but it has a stronger pk level than glycolic acid - and that gives it great "action". Mandelic is derived from an extract of bitter almonds, but will not cause allergic issues.
Chemical peels are great for use as:
Anti aging treatments
Acne treatments>
Scar treatments
Refreshening of the skin.
If you are searching for these general types of skin improvements, then Mandelic is the acid choice for you. It is great for:
Rosacea treatment (*Only the 22, not the 40) due to its ability to reduce inflammation.
Stubborn acne. Many patients can control their acne with Mandelic acid without the need for antibiotics or excessively irritating products.
Reducing fine lines and wrinkles. Dramatic improvement (as with a glycolic treatment) but without the irritation or post-inflammatory pigmentation often seen with other AHA acids.
Rapidly improve skin texture and sustain the effect over several months.
Reducing pigmentation, brown spots and large freckles.
Treating mild to moderate acne (both comedonal and inflammatory).
Antibacterial acne treatment which works by stopping growth of skin bacteria that causes acne and by keeping the pore follicles clear.
Skin pigmentation treatment including Melasma and post-inflammatory pigmentation - particularly those with darker skin types.
Alternative to hydroquinone due to its Tyrosinase inhibition properties (reducing melanin production).
What kind of peeling can I expect?
With Mandelic acid there is only a light amount, to no visible peeling. Mandelic is considered a Superficial peel. It can penetrate through the Stratum Corneum, the Stratum Granulsome and possibly into the Stratum Basale layer at higher strengths. Peeling should be completed within 3-7 days. There is not truly any "down time" related with this acid. You may consider a bit of dryness "social downtime".
The absence of flaking does not mean that this acid isn't working though. Flakes are not necessary for changes to occur within the skin. This is the perfect peel for someone that wants refreshed, new and glowing skin, but doesn't want to deal with the dryness and flakes a stronger peel will have.
Continual use is recommended for best results. You can apply this peel one time every week or every second week until a series is completed. Then as needed, or monthly. Alpha hydroxy acids are considered OK to use during pregnancy and during breastfeeding (lactation).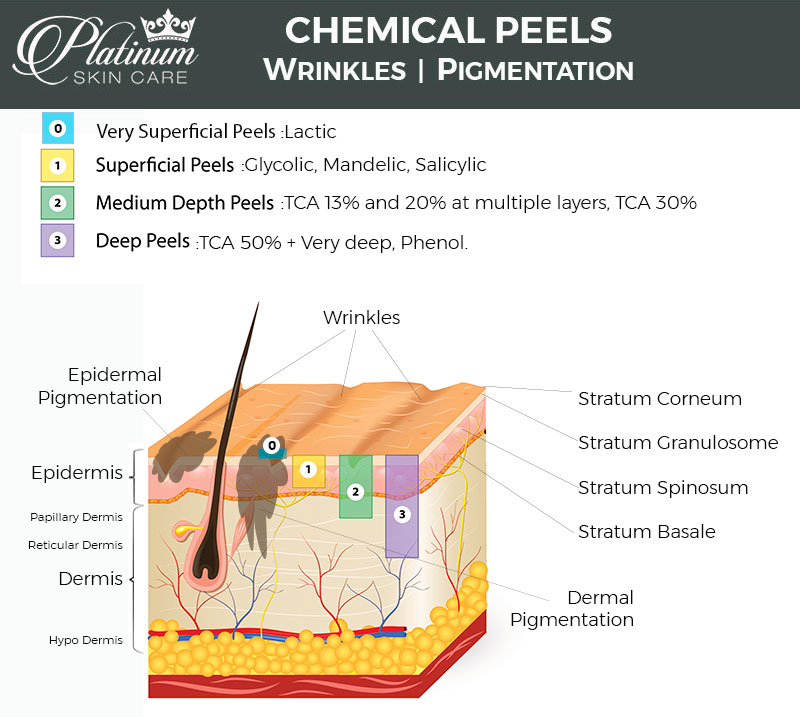 Once your skin has acclimated to the 40% you may want to try TCA 13 for more visible peeling.
View our simple chemical peel demonstration. It's VERY simple.
Watch instagrammer @missroseayala apply a mandelic peel in her own home. This is a peel that anyone can use on a regular basis. Rose had some concerns as she was still nursing her young son. With mandelic acid you will find that this is very safe and there are no negative connotations at all. Mandelic can be used during gestation as well as while nursing. Let's see how she did!
Wonderful job we think. Thank you so much for sharing your video with us Rose.
Watch youtuber Ageing Disgracefully do her mandelic peel demonstration. She will be doing more peels in the future as well so we will get to see her again. Enjoy and make sure to visit her channel to offer support. We thank everyone who wants to share their experience with us.
---
Instructions
After you have prepared your skin for 2 weeks, we suggest the following application process:
Wash face with acidic cleanser
Dry. Apply 1-2 layers of Peel Prep Solution A.
Apply peel for suggested time frame on direction sheet.
Apply Neutralizer.
Rinse well with cool - cold water.
---
Ingredients
Mandelic Azelaic Peel 22: SD Alcohol 40B, Mandelic Acid 20%, Propylene Glycol, Azelaic Acid 2%, Sodium Hydroxide (pH adjust), Purified Water. pH 2.5.
Mandelic 40+: Mandelic Acid, Water, Glycerin, Alcohol (Denat), Propylene Glycol, Inositol, Lactic Acid, Sodium Lactate, Sodium Benzoate, Fructose, Urea, Niacinamide, Sodium PCA. pH 2.5.
Neutralizer: Deionized Water, Glycerine, Sodium Carbonate, Panthenol, Polysorbate 20, Tea Tree Oil, Benzyl Alcohol. (4.5oz.)
Peel Prep A: SD Alcohol 90%, Glycolic Acid 5%, Water. pH 3.0 (2oz.)
More Testimonials
Shari, Verified Buyer 11/03/13
EXCELLENT RESULTS!
PSC has transformed my skin. I look better at 46 than I did in my 20's. More toned, greater clarity, a general vibrance in my skin that gets compliments often. I recently added this peel to my protocol, using it once per week with fantastic results. I am a fan of the glycolic, TCA, and salicylic peels, but this new peel produces super results with no redness or peeling. I highly recommend this peel! *Results vary depending on individual needs and product usage. Please see us for personal recommendations.
Anna, Verified Buyer 03/21/14
LOVE THIS STUFF I have tried other products with Mandelic Azelaic and it was just ehhh. This stuff however works fantastic with my skin. I get super oily in the summer months and I just HATE my skin. We have already had some warm days and this has really helped with the oil production and is keeping my pores small. I will never be without this stuff. I know I am only to use this once a week... but I have used it several w/o any negative issues.. all I know it's keeping my face clearer than it's ever been and I love it! *Results vary depending on individual needs and product usage. Please see us for personal recommendations.
Monica Flores, Verified Buyer 05/16/14
GREAT PEEL FOR OILY SKIN LOVE LOVE LOVE This peel it has help me be acne free! I highly recommened it! AMAZING!!!!!! Thank you Platinum Skin Care. *Results vary depending on individual needs and product usage. Please see us for personal recommendations.
KIMBERLY C., Verified Buyer 01/30/15
First time I ever used this, And have finished second peel. I left it on a little longer and two days later I am starting to peel. Definetly exfoliates and I'll need much more time to see if this addresses hyper-pigmentation issues. So far, I think I like it better than the Glycolic. *Results vary depending on individual needs and product usage. Please see us for personal recommendations.
CHRISTINE C., Verified Buyer 01/17/15
I love this product! When I use it my skin looks 5 years younger and people around me notice!! *Results vary depending on individual needs and product usage. Please see us for personal recommendations.