About Eye Peel | Intense Restoration Kit
TCA Eye Peel | Intense Restoration Kit
Chemical peels on the eye area can help with
Skin firmness
Improving fine lines
Minimizing dark spots
Decreasing dark circles
We have taken our Certified 7% TCA and created this easy to use kit to help you get professional results at home. TCA is excellent for stimulating collagen production in the skin. Studies [1] have proven that it can continue the stimulation of new collagen for up to 8 months after a single application.
We are using this as the catalyst in our Eye Peel Kit so you can have your eyes looking their very best. After your eye peel, we have added on the following after care items to really give your skin its best chance to create new collagen in the skin + a super packed Vitamin A punch with .55% Luminosity.
In this kit you will receive:
Watch Platinum Skin Care CEO Jennifer show you step by step how to apply this Peel and after care kit.
How do I apply my products?
Follow your direction card (and our video) and apply your tca peel.
Rinse well and let skin dry.
Apply 1-2 drops of Matrixyl Synthe'6 to both eyes.
Apply 1/2 pea size of Luminosity to eyes 1x per day for 3 days.
You may add an oil or healing ointment (like Emu oil or Essentials Healing Oil) on top if you wish.
Can TCA really stimulate collagen production in my skin?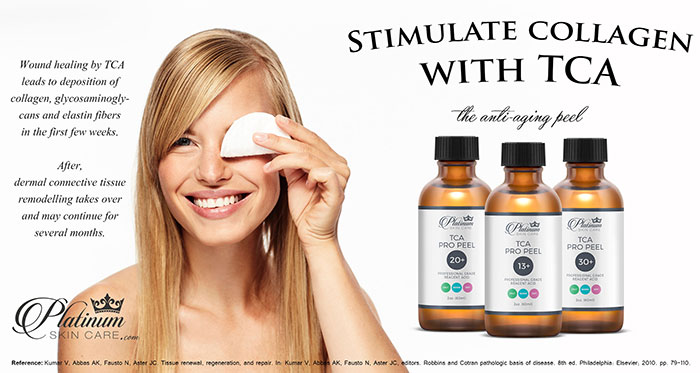 TCA has been around since the 1800's. It is a well studied acid that is the "gold standard" of all acids milder than phenol. [1] Wound healing by TCA leads to deposition of collagen, glycosaminoglycans and elastin fibers in the first few weeks. After, dermal connective tissue remodeling takes over which may continue for several months.
Reference [1]: Kumar V, Abbas AK, Fausto N, Aster JC. Tissue renewal, regeneration, and repair. In: Kumar V, Abbas AK, Fausto N, Aster JC, editors. Robbins and Cotran pathologic basis of disease. 8th ed. Philadelphia: Elsevier; 2010. pp. 79–110.
For more detailed information on our CERTIFIED TCA peels, please visit here.
For more detailed information on our 35% Matrixyl Synthe'6 Potion, please visit here.
For more detailed information on our Fusion A Luminosity .55% Retinol Cream, please visit here.
Know that we have your best interest at heart. These products have been specially put together so that you can get the very best results possible. Always remember that it will take time for collagen stimulation in the skin and it will take time to truly SEE your firmness increase on the eye area.
Have patience and your skin will thank you for it. Aim to see positive changes in 60 - 90 days time. You may see changes sooner, and that is just a bonus for you!
WARNINGS:
Always pretreat with Acyclovir if you have the herpes virus.
Always pretreat if you have darker skin or are dealing with pigmentation issues for 2 weeks minimum with Fade Bright or another melanin inhibitor.
Always keep a bottle of eye wash handy in case you splash acid or prep solution into your eye.
Do not apply this more than 1x per month - and preferably longer if you are sensitive.
The eye area could potentially swell a bit after a peel application. Keep a cold compress on the eye area if you have very sensitive eyes and this happens to you.
Watch one of our customers apply our eye peel kit.