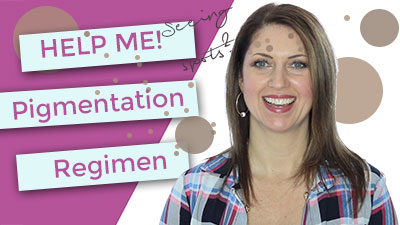 Hello, it's Jennifer from Platinum Skin Care and I am here to answer another one of your questions.
What are the best treatments for pigmentation?
Pigmentation – Sun Spots – Melasma – Liver spots – freckles – acne "scars" *Many people confuse the temporary marks as scars. They aren't scars – but rather discoloration left over from inflammation.
No matter what your SPOT we can treat and improve it with the right ingredients. Let's look at a Pigmentation Regimen.
Step 1 : Daily exfoliation:
The first product to reach for is Vitamin A – or Retinol Molecular Serum *( I suggest the .20% ). WHY? Because vitamin A puts your skin into a Hyper-regenerating state when you use it every evening. Skin gently sloughs off and new skin is regenerated. So as we focus on the spots, they will be reduced more quickly.
Step 2: Targeted treatments + antioxidants.
Fade Bright is the next product you will want to use. It is full of pigmentation lighteners and
Tyrosinase inhibitors. *If you block the formation of the production of Tyrosinase you block the formation of melanin spots! *so this is something you will want to continue to use daily.
Alpha arbutin * which is a derivative of hydroquinone – without the problems!
Kojic acid – Licorice – Mulberry – bearberry and Lactic acids are all – skin lighteners.
Resveratrol is another KEY ingredient that will not only reduce pigmentation but will brighten the entire complexion and lead to younger looking skin because it is a potent antioxidant!
High Octane Vitamin C is the 2nd treatment you will want to apply each day.
Vitamin C is not only excellent for your antiaging endeavors, but it is AMAZING for controlling excess spots form the sun.
L ascorbic acid is the gold standard for reducing pigmentation and protecting the skin from UVA and UVB damage.
Aminopropyl Ascorbyl Phosphate. (or AAP) is a very potent form of vitamin C that EXCELS at greatly minimizing age spots … and BONUS it also stimulates the synthesis of collagen by 140%.
Since so much of the pigmentation starts to show as we get older, the antiaging benefits of vitamin C are an even bigger boost!
Step #3: SPF
This one I almost consider a no-brainer, but some people aren't putting on the appropriate SPF every day. If you are dealing with pigmentation, you absolutely MUST put on an SPF of at least 40. …. If you are spending time outdoors remember to REAPPLY! One single application just will not do for a day at the beach with the kids. Apply every few hours and wear a large hat. *Large brim hats are IN. Rock it and look like a super star wherever you go WHILE protecting your skin.
Peels
We generally suggest one of the following 3 peels if you are dealing with pigmentation.
Lactic acid 50% – for those with dry, sensitive skin. This is very, very mild and can be used every single week.
Mandelic acid 40+% – this is for the people that only want very light flaking. It is super manageable, has a very low irritation factor, and can be used on just about anyone.
TCA 13% – is excellent for treating pigmentation ( and a plethora of other things ) but it will cause more flaking than the other 2 acids mentioned. This is the one you reach for when you want to get the best bang for each peel. I generally suggest 1-2 layers on the entire face and an extra layer on the spots themselves with a Q-tip.
**After rinsing off your peel, make sure to immediately apply a layer of Fade Bright. It will penetrate extra deep and be very beneficial for your pigmentation treatment.
If you are following this regimen, you should start to see a lightening after about 4-6 weeks – on average.
Why so long???? Because pigmentation runs DEEP in your skin. You have been creating this issue for probably the past 20 years of your life and we need to give it time to fade back.
Be patient – document with photos along the way every 30 days – and your skin will be looking amazing in a few months.
*Remember though, if you are dealing with melasma, this is a chronic issue. There is no cure - only constant treatment and prevention. SPF needs to be your best friend and so does retinol and alpha arbutin along with monthly peels.
Go get started!
This is Jennifer, … I will be back again with more tips and Frequently Asked Questions.
Have a wonderful day! Bye