About Fade Bright Lightening
Available in 2 sizes. 2oz. for facial use and 4.5oz. for body use.
Say goodbye to the pigmentation putting a damper on your complexion with this amazing cocktail of potent - but SAFE - lightening ingredients. Treat pigmentation, sun spots and PIH with a 2x daily application of:
Alpha Arbutin
Azelaic Acid
Kojic Acid
Licorice
Mulberry
Bearberry
Resveratrol
Lactic acid
Intense combination of actives that will help to brighten the skin as well as reduce the appearance of dark spots and discolorations. Our Fade-Bright Serum provides even, fast-acting pigment inhibition. The combination of Alpha Arbutin, Azelaic Acid, Kojic Acid, Licorice, Mulberry, Bearberry, Resveratrol and Lactic acid will help to brighten the skin as well as reduce the appearance of dark spots and discolorations.
This combination of ingredients will act faster, safer and more efficiently than commonly used bleaching creams with a single component - without irritation. Repeated daily use required to achieve desired results. Best results are seen after 4-6 weeks of use. Use of sun protection is mandatory. If you are trying to reduce pigmentation - yet aren't applying an SPF you are taking one step forward and 3 steps back!
Take a photo.
Follow your protocol.
Have patience!
This is so important. I can't tell you how many emails we get about this not working INSTANTLY!!! Well, if there were an "instant cure" the doctors would know about it. As of now there is not. Not a peel, or a laser, or IPL or a single treatment can take care of your hyperpigmentation RIGHT NOW.
There is not.
What we need to do is have patience. We need to use a daily treatment - Fade Bright is a great one! Then, it is very possible that you may need to also add on a Peel or an IPL treatment. Sometimes other things like laser. PICO springs to mind. No matter what, the base of your treatment is always - always - always a daily melanin inhibitor and an SPF of 50 or more.
Did you realize that if you are using lighteners and acids, and you are NOT using an SPF 40-50, you can actually make your pigmentation worse!
Do you have celiac and are concerned about gluten because of Kojic acid being in this product? Kojic acid originates in Mushrooms, and other types of fungus. It is also found in Corn Starch. Commercially available Kojic Acid is manufactured from Corn Starch. Gluten is not found in Corn Starch, and therefore cannot be and will not be found in a cornstarch byproduct (Kojic Acid).
**IF you have any type of ethnic, mixed, or especially dark skin, and are thinking about doing a peel - use this every day for at least 2 weeks to prepare your skin.
We want to make this as EASY as possible for you to understand. So, if you prefer videos, let our CEO tell you all about our special Fade Bright in this video and skip the reading.
What Causes Skin Pigmentation?
The skin color is determined by the interaction of different colorants. Indeed, the red staining agent of blood, hemoglobin, is responsible for reddish and bluish shades, while carotenoids are responsible for the basic yellow shade of skin. The brown coloration results from the pigments eumelanin and phaeomelanin, which are produced in special epidermal cells, the so-called melanocytes.
The enzyme tyrosinase, usually present in an inactive form, is formed in these melanocytes. Its activation by UV light triggers off melanogenesis, i.e. a complex series of enzymatic chemical reactions which finally lead to the formation of melanins. The efficient blocking of tyrosinase inhibits the reaction chain of melanogenesis. Today many developments target efficient and fast enzyme-blocking properties without any side effects.

ALPHA-ARBUTIN meets all the requirements of a modern skin-lightening and skin depigmentation product.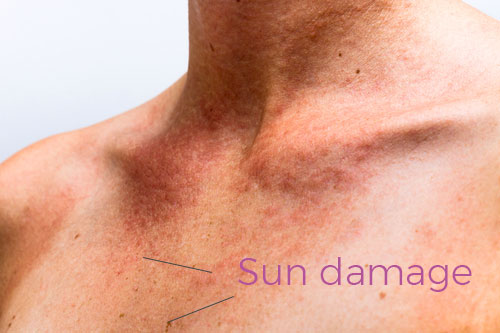 Are you dealing with epidermal or dermal melasma?
One thing that is VERY important to understand, is that melasma is a chronic condition and there is no cure! No matter what "miracle stories" you have heard on the internet, melasma will be a lifelong battle.
Melasma shows up as brown spots or splotches on the forehead, cheeks, jaw line or upper lip. It is essentially too much dark pigment. That pigment has been triggered by hormones and/or sun exposure. Melasma can appear when a woman's hormones change, whether through pregnancy, oral contraceptives, or hormone replacement therapy after menopause. Women of color are prone to melasma, but people of any skin type can get melasma. [1]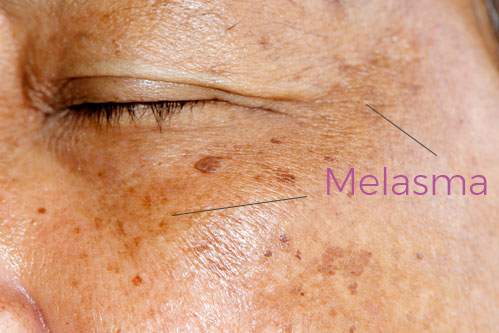 You will find that melasma is quite difficult to treat, and it can be a long process taking several months up to a year or more, to get a satisfying result. Most lasers do not work well with melasma and end up causing further discoloration. So, the best treatments for this are medium depth peels like a TCA 13% at 2-4 layers, mixed with retinol use and topical lightening products such as Fade Bright and antioxidants such as High Octane Vitamin C Seurm. Never forget a broad sunscreen with an SPF value of 40 or 50 every single day.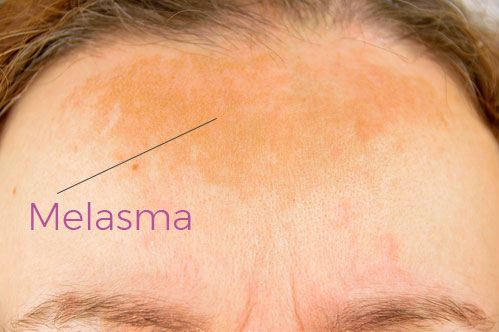 Diligently apply your UVA and UVB SPF daily as well. Every 4 hours is recommended if you have melasma and will be spending time outdoors. Likewise, grab (or purchase) a wide brimmed hat and wear that whenever possible. Platinum CEO Jennifer suffers from melasma and loves to wear one of her wide hats when she is out and about in the summer months. Not only will it protect your skin, but there are so many amazing ones out there you can match any outfit and look amazing!
"The bottom line for patients," Dr. Reichel says, "is understanding that sunscreen alone — even those containing zinc oxide or titanium oxide — is not enough with melasma, and that even a brief exposure can set them back. They must have shade, so they need a broad-brimmed hat and protective clothing." [2]
Is there a reason why you didn't include vitamin c in your fade bright serum? Does it cancel out any of the other ingredients?
Yes indeed. Alcohol is not a good base for Vitamin C ... and actually, neither is water! Yes, it is water-soluble, but it will also go bad (turn rancid) in around 3-4 months time. Our High Octane Vitamin C Serum is created without water or alcohol. This makes our C good for 1 year or more. We find that it is much better to layer the products than have them together in one. You will get better results when the ingredients are in their proper vehicles.
What is Alpha Arbutin?
ALPHA-ARBUTIN is a pure, water-soluble, biosynthetic active ingredient. ALPHA- ARBUTIN promotes lightening and an even skin tone on all skin types. ALPHA-ARBUTIN blocks epidermal melanin biosynthesis by inhibiting enzymatic oxidation of tyrosine and Dopa.
ALPHA-ARBUTIN acts faster, safer and more efficiently than commonly used single components such as hydroquinone, Kojic acid... You will find that is does not cause the irritation that *Hydroquinone does, AND it works much more efficiently!
*Hydroquinone should only be used under medical supervision, as long-term use can lead to the condition exogenous ochronosis, a grey-brown or blue-black hyperpigmentation of the skin that is permanent. HQ is also a potential carcinogen, and has been banned from many countries. Yet another reason to look into a different category of pigmentation inhibitors such as our Fade Bright.
What is Regu(R)-Fade?
Regu(R)-fade (INCI Resveratrol) - helps to reduce the appearance of skin pigmentation resulting in noticeably brighter, younger-looking skin. It uses pure nature-identical trans-resveratrol that is free from pesticides and emodin. Resveratrol is a known potent antioxidant found in red grapes and associated with various health benefits.
Sometimes it is easier to understand what your regimen should be by watching a video. Especially with pigmentation or melasma you will need to use more than just a singular product to treat your problem.
Here is a great video from a Youtuber who is using a sample size of our Fade Bright - and is already getting results! Thank you for sharing this Vincent! We are always excited to see our clients make positive changes in their skin. Yes, indeed. This is formulated to penetrate deeply and quickly. Thank you for noticing that.
Here is another Vlogger that is enjoying the benefits of our Fade Bright Serum
---
Instructions
Apply 1 pump to freshly cleansed skin before any other treatments. Use daily to lighten and brighten the skin tone. Always use an SPF of 30 to protect your skin from future pigmentation.

*If you have pigmented skin, darker skin or are prone to hyper-pigmentation, then follow Pre-Peel Directions.

PRE-PEEL Directions: Apply this product 1-2x daily for 10-14 consecutive days prior to performing a chemical peel to help reduce* the chances of post-inflammatory pigmentation. If you have Fitzpatrick 4-6 then 3-4 weeks prior is a better recommendation for a TCA or Jessners peel.

POST-PEEL Directions: Continue daily application of Fade-Bright on day 4 post-peel* to help with future pigmentation.

*Using this product does not guarantee that post-inflammatory pigmentation will not occur after a peel, but its usage will reduce the likeliness.
Ingredients *Updated 2-2023 new Water-based formulation.
Distilled Water, SDA 40B, Alpha Arbutin, Propylene Glycol, Kojic Acid, Azelaic Acid, Ethoxydiglycol, Glycerine, Niacinamide, Resveratrol, Butylene Glycol, Dipotassium Glycyrrhizinate, Ammonium Acryloyldimethyltaurate/ VP Copolymer, Phenoxyethanol, Ethylhexylglycerin. pH 4.5 2oz./60ml

Scientific Facts: Urea, sometimes referred to as carbamide, is produced in mammalian systems when proteins are broken down. It is excreted in the urine of mammals. The Urea found in cosmetics and personal care products is synthetic and not animal derived. In addition to its use in cosmetics and personal care products, Urea has a number of food uses, including its use as a fermentation aid in bakery products and wine.
1. https://aestheticsjournal.com/feature/considerations-for-hyperpigmentation-during-pregnancy
2. https://www.the-dermatologist.com/content/making-melasma-more-manageable